Wednesday, July 19, 2006
Israelis Say the Darndest Things!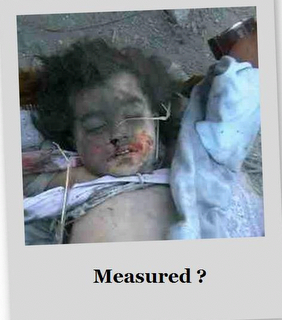 Israel Foreign Minister Livni,
New York Times, July 18
: "When you go to sleep with a missile," she said, "you might find yourself waking up to another kind of missile."
Ha'aretz Journalist
Ari Shavit
: "You don't have to be a political genius to realize that once you have the moral high ground, you should use it."
Dan Gillerman
, Israel's UN Ambassador "referring to complaints that Israel was using disproportionate force, to a rally of New York supporters, 'You're damn right we are.'"
Picture Credit and more graphic pictures